National Funding

Empowering Business Owners to Thrive––Now and Into the Future
Helping National Funding grow it's platform through a redesign of brand identity and product offerings.



Challenge
Increase new customer acquisition and recurring revenue from current customers.

Outcome
An evolved brand identity that helped National Funding stand out in a competitive market.
A website that uses personalized, benefits-driven messaging and quick paths to conversion.

Role
Account Manager

National Funding is one of the leading FinTech lenders for small and medium-sized businesses in the United States, providing $1.3 billion+ in capital to over 20,000 businesses nationwide. As a pioneer in the alternative lending space with humble beginnings, National Funding differentiated itself as a true American success story and a hard-working ally of businesses owners. Facing pressure from FinTech disruptors, the company reached out with a need for short and long-term strategies that would allow them to stay competitive.

We dove into research and uncovered two key insights relevant to engagement:

brand perception was the primary limiting factor in people's willingness to become a customer.
small business owners are always on the go and look for quick, readily accessible, and personalized loan information when making a financial decision.


We shared our findings with National Funding and together moved forward with a two-pronged strategy:

refresh the brand to resonate with target audiences.
redesign the website with an emphasis on mobile to provide users with the information they need exactly when they need it.


Brand Research was the key to understanding how National Funding could better attract and serve customers. We used a human-centered approach to guide our process. Interviews, surveys, and competitive analysis allowed us to take a deep dive into the lives and needs of our audience. We determined an emotional, benefits-driven story that speaks to customer needs would differentiate the brand. Their story should evolve along with the customer journey and be based on real, authentic situations to establish trust and validation. We crafted a number of print and digital assets to tell this story along with strategies for positioning and roll-out.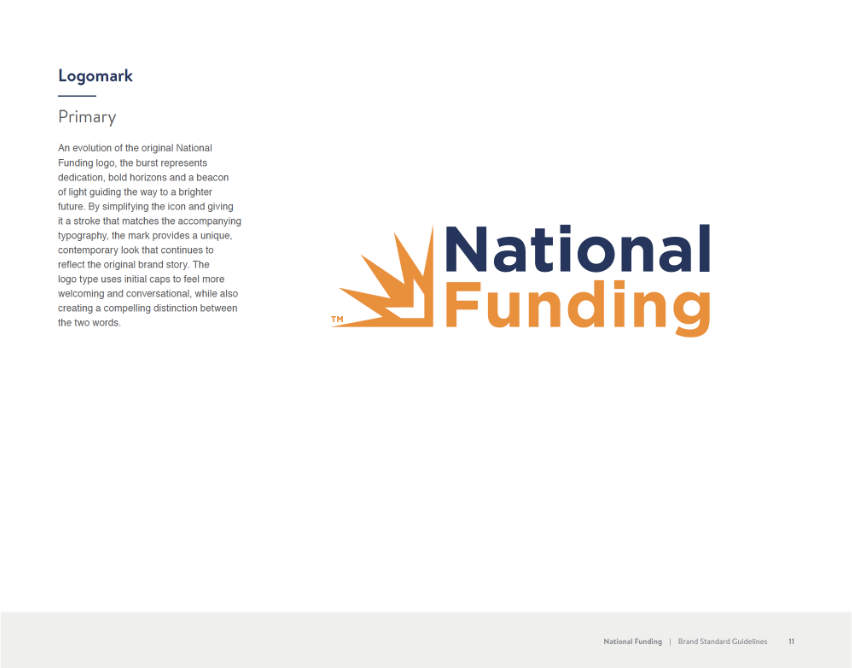 With a growing number of people using digital tools to find, compare, and purchase financial products, we knew National Funding needed a powerful, web-based sales and acquisition tool. Interestingly, our research showed that a conversation with a sales representative was needed to bring customers to the end their buying journey. We crafted a unique user experience that connected our users with the information they needed to generate interest, followed by opportunities to begin a conversation with a representative. The result was a clean, powerful site that bolstered sales within two months of launch.



––––



"Thank you for your help and creativity in bringing this site to life.
It was a lot of hard work, and based on initial feedback, well worth it."




––Tom Brainerd, Executive VP of Marketing, National Funding



––––


Within the first few months after launch, National Funding saw an increase in web-based customer acquisitions that met project KPIs. The brand redesign has helped National Funding stand out as a recognizable and trusted partner in the small-business lending space. Messaging pillars developed as part of the brand redesign have helped other departments within the company refine their marketing efforts. The business overall now has a more consistent and impactful presence in-market.